15th International Conference
on Business Information Systems

BIS 2012
Vilnius, Lithuania 21-23 May, 2012

---
BIS 2012 awards
---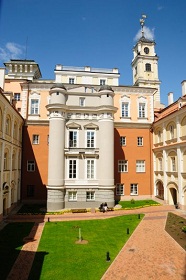 About BIS
During the 15 years of BIS conference history it grew as well renowned event of the scientific community. Every year it joins international researchers for scientific discussions on the development, implementation and application of business information, based on innovative ideas and computational intelligence methods. The conference addresses wide scientific community and experts involved in the development of business computing applications.
---
Conference theme:
Advanced Computational Gateway to Business Information Management
The pervasive vision of this year conference is laid for opening gateway to knowledge discovery for effective decision making and managing business processes by developing information management frameworks closely aligned with enterprise strategy and objectives. We encourage comprehensive look at the concept of data governance as it joins cross-functional teams for business knowledge alignment affecting the company or organization as a whole.
The aim of the conference is to identify trends and problems fostering new development of business information systems by applying advanced computational approaches and business intelligence. We expect that ideas and high quality publications presented by the researchers can shape future research directions both in theoretical and applied domains of managing business knowledge.
BIS 2012 continues the tradition of collaboration among multiple scientific areas, therefore we are looking forward for original research papers covering the topics detailed in the Call for Papers
---

BIS 2011 proceedings were published as two separate volumes of LNBIP: proceedings containing conference papers, and post-proceedings containing workshop papers.
The conference proceedings as a volume number 87 in Lecture Notes in Business Information Processing series by Springer Verlag (the online version can be accessed [here]).

BIS 2011 workshops proceedings were published as a volume number 97 in Lecture Notes in Business Information Processing series by Springer Verlag.
The online version can be accessed [here].

---
Important links
For sponsorship opportunities, please contact Krzysztof Wecel: (K.Wecel@kie.ue.poznan.pl)

---