Topics of interest | Submission guidelines | Important dates | Special Issue | Organizers and Chairs | Program Committee
Accepted Papers
The goal of this workshop is to bring together different communities working on quality in Wikipedia, DBpedia, Wikidata, OpenStreetMap, Wikimapia and other open knowledge bases. The workshop calls for sharing research experience and knowledge related to quality assessment in open data. We invite papers that provide methodologies and techniques, which can help to verify and enrich various community based services in different languages.

Other editions of the workshop – QODW.org.
Topics of interest
Quality management in open knowledge bases
Large-scale information extraction
Assessment of geospatial data in OpenStreetMap, Wikimapia and other collaborative maps
Multilingual entity recognition tasks
Enriching open databases with NLP methods
Quality assessment of Wikipedia articles
Improving quality of DBpedia, Wikidata and other semantic databases
Enrichment of multilingual open knowledge bases
Analysis of references and citation data
Submission guidelines
Long papers: max. 12 pages
Work-in-progress reports: max. 6 pages
Demo papers: max. 4 pages
Papers must be submitted in PDF format according to Springer LNBIP template
Submission system is available at EasyChair.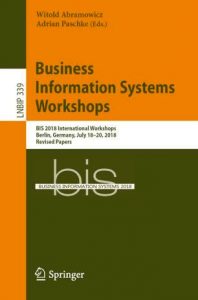 Papers approved for presentation at QOD 2019 will be published in BIS 2019 workshop post-conference proceedings, as a volume in Springer's Lecture Notes in Business Information Processing (LNBIP) series. BIS 2019 Workshops proceedings will be distributed to workshop participants by regular mail.
Workshop papers will be made available in electronic form by the BIS organizers to all workshop participants (and only to them) directly before the conference.
Important dates
April 30, 2019 (extended) – submission deadline for papers
May 22, 2019 (extended) – notification of acceptance/rejection
June 5, 2019 (extended) – submission of final papers (for presentation)
June 26-28, 2019 – the workshop
Special Issue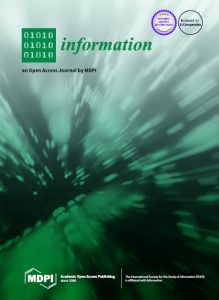 Authors of the accepted papers will be invited to extend their work to be published as part of Special Issue "Quality of Open Data" in Information journal.
Information is an online open access journal of information science and technology, data, knowledge and communication. It publishes reviews, regular research papers and short communications. It is indexed among others by Ei Compendex, Scopus, Emerging Sources Citation Index (ESCI – Web of Science).
There will be no article processing charge for extended versions of the accepted papers presented at the QOD 2019 workshop. Requirements for extendent papers:
At least 40% new content is needed for extended papers
Should not be exceed 30% copy/paste from conference papers
Organizers and Chairs
Chairs
Program Committee
Maribel Acosta, Karlsruhe Institute of Technology, Germany
Riccardo Albertoni, CNR-IMATI, Italy
Denilson Barbosa, University of Alberta, Canada
Volha Bryl, Springer Nature, United Kingdom
Ioannis Chrysakis, Foundation for Research and Technology – Hellas (FORTH), Greece
Vittoria Cozza, University of Padua, Italy
Gianluca Demartini, The University of Queensland, Australia
Wassim Dergeuch, Derilinx, Ireland
Anastasia Dimou, Ghent University, Belgium
Suzanne Embury, The University of Manchester, United Kingdom
Ralf Härting, Hochschule Aalen, Germany
Antoine Isaac, Europeana & VU University Amsterdam, Netherlands
Tomas Kliegr, University of Economics, Prague, Czech Republic
Dimitris Kontokostas, University of Leipzig, Germany
Jose Emilio Labra Gayo, Universidad de Oviedo, Spain
Maristella Matera, Politecnico di Milano, Italy
Finn Årup Nielsen, Technical University of Denmark, Kingdom of Denmark
Matteo Palmonari, University of Milano-Bicocca, Italy
Simon Razniewski, Max Planck Institute for Informatics, Germany
Mariano Rico, Universidad Politécnica de Madrid, Spain
Blerina Spahiu, Università degli Studi di Milano Bicocca, Italy
Morten Warncke-Wang, Wikimedia Foundation, USA
Amrapali Zaveri, Maastricht University, Netherlands
Media Partner

Contact